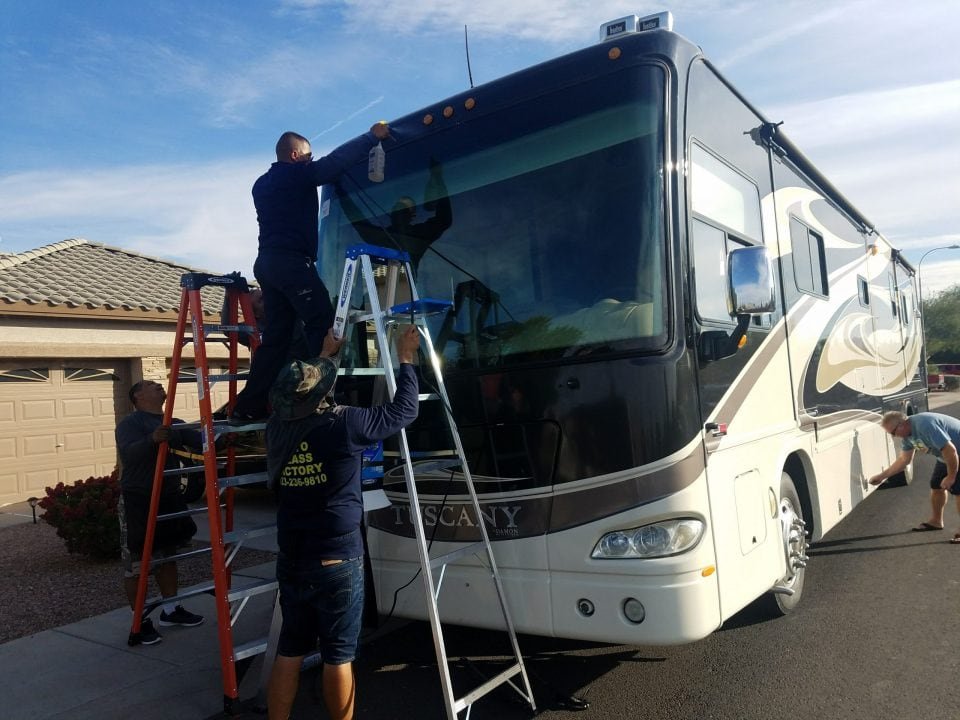 At Auto Glass Factory, we understand the unique needs of RV owners, especially when it comes to windshield replacement. With years of experience in RV windshield replacement in Tucson, AZ, we're equipped to handle even the most complex jobs with precision and efficiency.
Why Choose Auto Glass Factory for RV Windshield Replacement?
When it comes to RV windshield replacement, expertise and attention to detail are critical. That's where Auto Glass Factory shines. Our highly trained technicians are skilled at replacing windshields on a wide range of RV makes and models.
Our RV Windshield Replacement Process
Assessment and Removal
We start by assessing the damage to your RV windshield. Once we've determined replacement is necessary, we carefully remove the damaged windshield, taking extra precautions to protect your RV's body and interior.
Installation
Next, we install your new RV windshield. We use only high-quality glass that meets or exceeds original equipment manufacturer (OEM) specifications, ensuring a perfect fit and long-lasting durability.
Sealing and Inspection
Once installed, we apply a high-strength sealant to keep your windshield secure and leak-free. We then conduct a thorough inspection to ensure the job is done right.
Why Tucson, AZ Trusts Auto Glass Factory for RV Windshield Replacement
Auto Glass Factory has earned the trust of Tucson's RV community by providing:
Expert Technicians: Our team specializes in RV windshield replacement, offering a level of expertise that general auto glass shops can't match.
Quality Materials: We use top-quality glass and sealants for superior durability and performance.
Exceptional Service: Your satisfaction is our top priority. We work diligently to provide a seamless service experience from start to finish.
Schedule Your RV Windshield Replacement Today
Don't let a damaged windshield compromise your safety or impede your travels. Reach out to Auto Glass Factory in Tucson, AZ today for expert RV windshield replacement services. Schedule your appointment on our landing page now!
Conclusion
For RV windshield replacement in Tucson, AZ, trust the experts at Auto Glass Factory. We're dedicated to delivering top-quality results that keep you safe on the road.
Save your money with FREE estimates
on our windshield replacement services.
Call us at
(623) 236-9810
Call Today For Current Promotions.
Many Available!
FAQs
Q: How long does it take to replace an RV windshield?
A: While the timeframe can vary depending on the size and complexity of the windshield, most RV windshield replacements are completed within 2-4 hours.
Q: Can small cracks or chips in my RV windshield be repaired instead of replaced?
A: It depends on the size, location, and depth of the damage. Small cracks or chips that are not in the driver's field of vision may be repairable. However, larger or more complex damage typically requires replacement.
Q: Why should I choose a specialist for RV windshield replacement?
A: RV windshields are often larger and more complex than car windshields, requiring special tools and techniques to replace. An RV windshield specialist has the necessary expertise and experience to handle these unique challenges.