Replacing your car's windshield should be your top priority. This crucial task plays a vital role in preserving the structural integrity of your vehicle and supporting the roof, ultimately protecting you from potential collapse in accidents. Furthermore, a cracked or damaged windshield poses a significant hazard during collisions. However, the benefits of replacing it extend beyond safety. By installing a new windshield, you guarantee improved visibility as obstructions and scratches are eliminated, providing you with a clear view of the road. Additionally, your car's fuel efficiency is enhanced through improved aerodynamics. Alongside windshield replacement, it is imperative to prioritize the regular replacement of your windshield wipers to ensure excellent visibility, particularly in unfavorable weather conditions. To achieve a reliable and long-lasting replacement, it is crucial to entrust the task to a reputable service provider that uses high-quality materials and employs impeccable installation techniques.
Understanding the Importance of Windshield Replacements
Increased Safety: The windshield of your vehicle plays a vital role in maintaining the stability of your car. In the unfortunate event of an accident, it serves as a safeguard, preventing the collapse of the roof and ensuring your safety.
Improved Visibility: Ensuring a clear and unobstructed windshield is crucial for safe driving. Any cracks or damage can impair your vision, posing a higher risk of accidents. By repairing or replacing your windshield, you enhance your visibility on the road, contributing to a safer driving experience.
Protection from Hazards: Your windshield acts as a protective shield, guarding you against debris and rocks encountered while driving. However, a damaged windshield becomes more susceptible to such hazards, jeopardizing your safety. By promptly replacing it, you ensure optimal protection from potential dangers, minimizing the risk of harm.
Preserved Resale Value: If you have plans to sell your vehicle in the future, a damaged windshield can significantly diminish its resale value. Consequently, replacing your windshield not only guarantees safety but also maintains the overall worth of your car, allowing you to maximize its value when the time comes.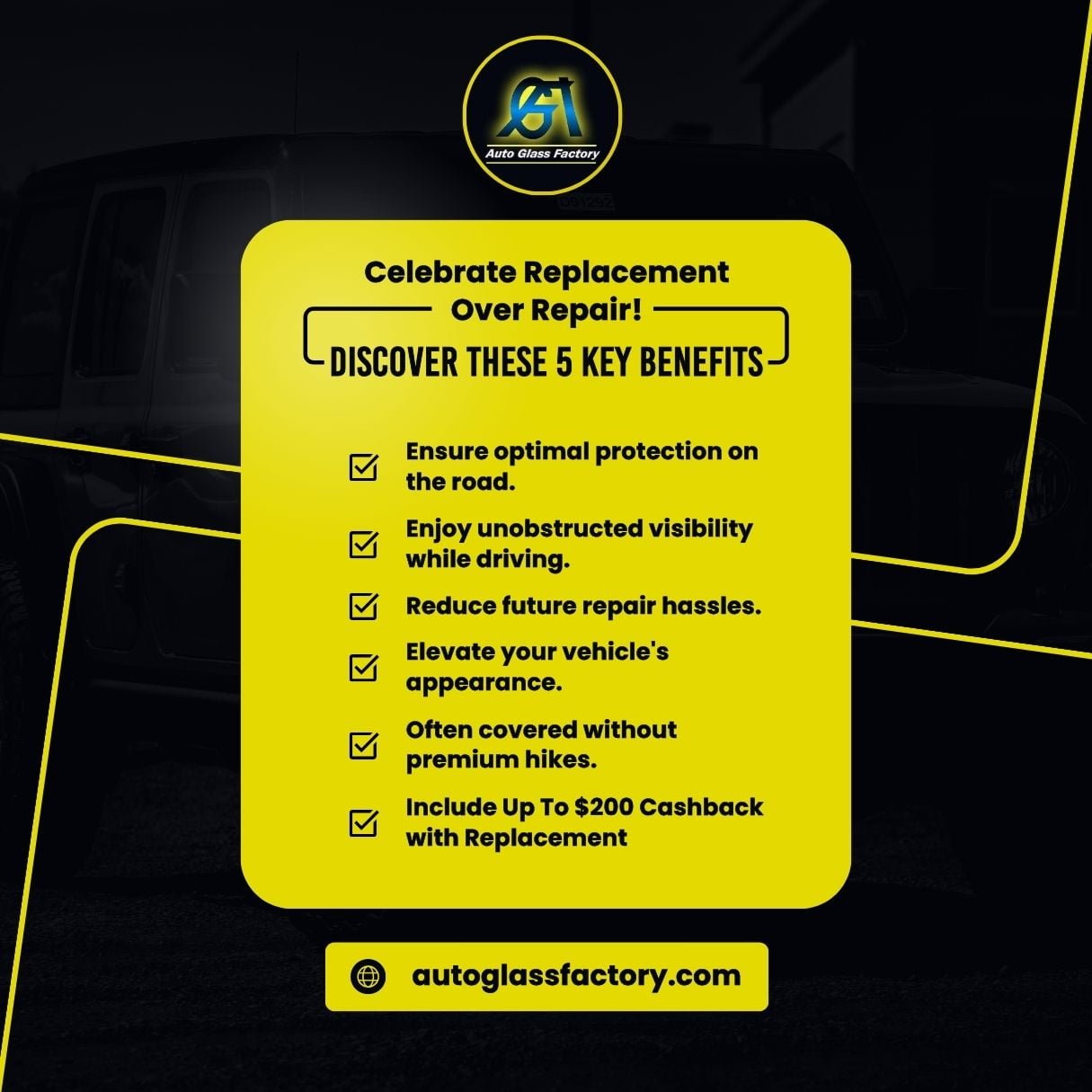 For the highest level of expertise, quality materials, convenience, and exceptional customer service, choose Auto Glass Factory in Arrowhead Lakes. Don't risk your safety or potentially face legal issues due to damaged windshields. Put your well-being and your vehicle's health first today.
Contact
Auto Glass Factory
now and experience our outstanding windshield replacement services tailored to guarantee your safety and absolute satisfaction.
Why Choose Auto Glass Factory for
Windshield Replacement near Arrowhead Lakes?
When it comes to windshield replacement services near Arrowhead Lakes, there's no need to search any longer. Auto Glass Factory is your go-to solution. Our team of skilled professionals excels in flawlessly installing windshields, guaranteeing the utmost safety for your vehicle. With our exceptional service, you'll experience impeccable visibility and a tranquil mind as you drive. Make Auto Glass Factory your number one choice in Scottsdale and its adjacent areas.
Auto Glass Factory boasts a team of exceptionally talented professionals who specialize in the art of windshield replacement. Our technicians are not only deeply committed to their craft, but they also hold esteemed certifications that solidify their unparalleled expertise. When choosing us, anticipate nothing but the epitome of craftsmanship.
At our company, safety is our top priority. When we replace your windshield, we only use the highest quality glass and materials. Rest assured that the new windshield will impeccably match your vehicle and adhere to the original factory standards. We genuinely care about your safety and want to provide you with peace of mind.
We highly value your time and convenience. Your schedule is our top priority, and we are dedicated to simplifying your life. Our services are carefully designed to prioritize your safety and facilitate a quick return to the road. You can confidently trust us to promptly replace your windshield, while seamlessly adjusting to your busy schedule.
At Auto Glass Factory, we pride ourselves on providing top-notch auto glass services at prices that won't break the bank. Our commitment to fair and transparent pricing means you'll always know exactly what you're paying for without any surprise charges. Trust us to deliver upfront pricing that ensures you get the best value possible, every time we interact with you.
Understanding the Common Causes of Windshield Damage
In order to effectively safeguard your windshield and promptly replace it when needed, it is crucial to be aware of the frequent causes of damage. Keep an eye out for the following factors:
Flying Debris: Windshields are often vulnerable to damage from flying debris, like rocks, gravel, or unexpected tree branches. To greatly reduce this risk, it's crucial to stay attentive to your surroundings and keep a safe distance from other vehicles.
Extreme Temperatures: Glass is highly sensitive to extreme temperatures, which can cause cracks or stress fractures when exposed to rapid shifts from hot to cold, or vice versa. To prevent this type of damage, it's advisable to park your vehicle in shaded areas during hot weather and avoid sudden temperature changes.
Car Accidents: Collisions with vehicles or objects can result in windshield damage, ranging from minor cracks to complete shattering, especially in high-speed accidents. Practicing safe driving habits and maintaining a safe distance from other vehicles are crucial to prevent such accidents.
Improper Installation: Proper windshield installation is vital for its overall integrity. Incorrectly installed windshields can lead to leaks, structural vulnerabilities, and eventual damage. To avoid this problem, it's always wise to rely on certified professionals for windshield replacements or repairs.
Construction or Roadwork: Construction or roadwork zones often have loose gravel, stones, and debris that passing vehicles can kick up, posing a significant risk to your windshield. When driving through these areas, it's important to exercise caution, reduce your speed, and maintain a safe following distance.
Poor Maintenance: Neglecting regular windshield maintenance, like ignoring small chips or cracks, can result in more extensive damage over time. To prevent the spread of these minor damages, it's crucial to address them promptly.
Weather Conditions: Severe weather conditions like hailstorms or strong winds can be harsh on windshields. Large hailstones and airborne objects during storms can cause cracks or chips. Taking preventive measures, like parking under shelter or using protective covers during extreme weather, can be invaluable.
Defective Glass: Although rare, manufacturing defects in the glass itself can make it more prone to damage. Staying vigilant and addressing such issues with the manufacturer is essential.
Vandalism: Acts of vandalism, such as intentionally scratching or smashing the windshield, can cause significant damage. Whenever possible, it's advisable to park your vehicle in well-lit and secure areas to reduce the risk of vandalism.
Improper Cleaning: Using abrasive materials or harsh chemicals to clean the windshield can gradually scratch or weaken the glass. It's important to follow gentle cleaning methods recommended for windshields to preserve their integrity.
By understanding these factors and implementing preventive measures, you can effectively protect your windshield and ensure optimal driving conditions. Consistent maintenance and responsible driving practices are key to avoiding costly repairs or replacements.
Efficient Windshield Replacement Procedure at Auto Glass Factory
Evaluation of Services: Our team consists of certified technicians who conduct thorough assessments of your windshield, considering factors such as cracks, chips, and the need for complete replacement.
Customized Solutions: We provide tailored solutions that are specifically designed to complement and enhance the appearance of your vehicle, taking into account its unique make and model.
Precise Removal: Our highly skilled technicians skillfully remove your old and damaged windshield with precision and the utmost care, ensuring that your vehicle is in optimal condition for the installation of the new one.
Expert Installation: Our experienced professionals expertly install your new windshield, guaranteeing a flawless fit that meets all safety and regulatory standards, giving you complete peace of mind.
Quality Assurance: Our team of experts conducts a comprehensive quality inspection of your vehicle, ensuring the highest level of safety and reliability for your new windshield before returning it to you.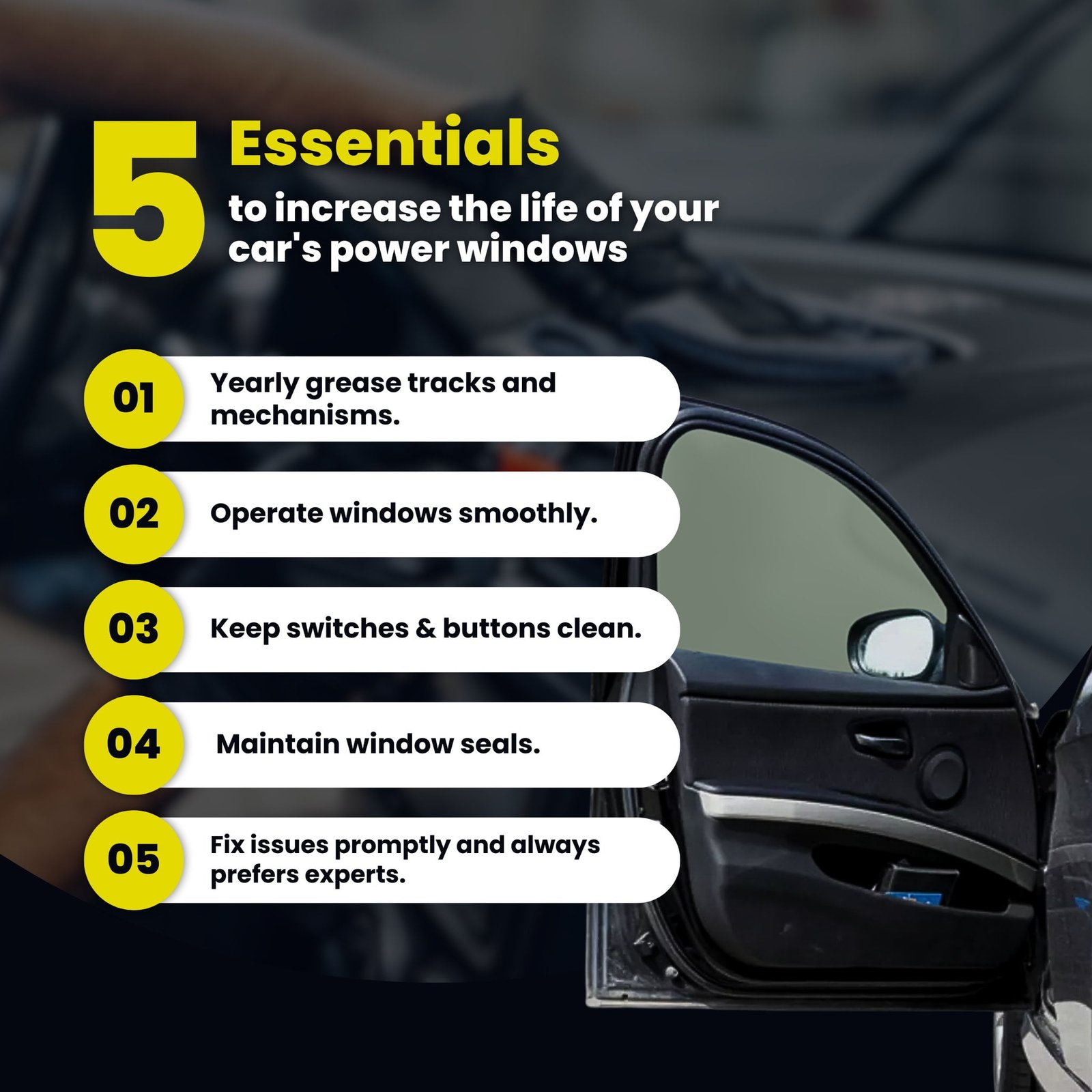 When you need windshield replacement services near Arrowhead Lakes, Auto Glass Factory is the name you can rely on. Feel free to reach out to us today to schedule an appointment or to get a free estimate for your windshield replacement needs.
Save your money with FREE estimates on our windshield replacement services.
Call us at (623) 236-9810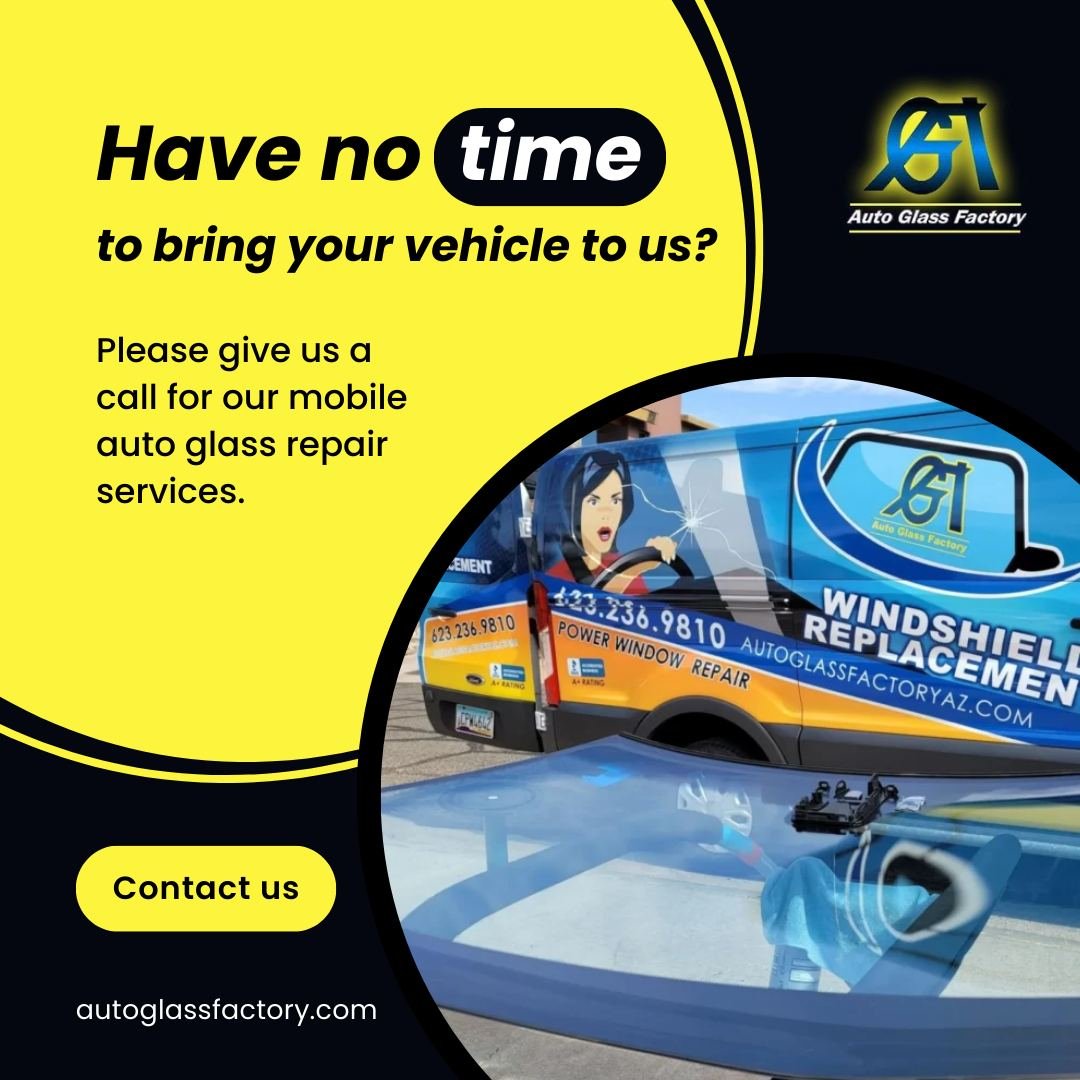 Windshield Replacement Specialist Available at Any Glendale Location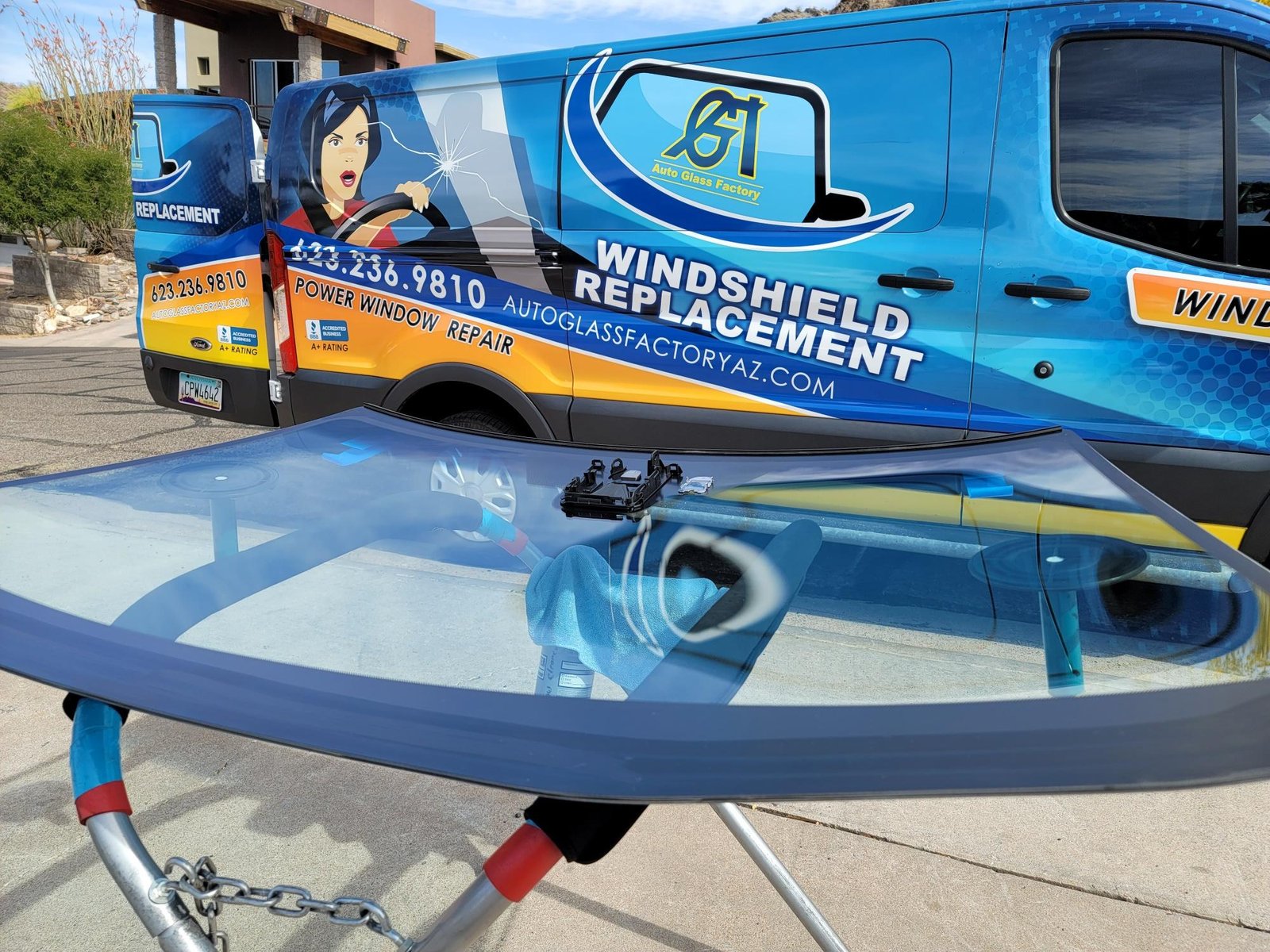 Whether you reside in the vibrant heart of the city or its peaceful suburbs, our expert technicians are dedicated to delivering top-quality windshield replacements that prioritize safety and clarity.
Popular Glendale Neighborhoods Of Our Windshield Replacement Services:
A COMPLETE RANGE OF AUTO GLASS SERVICES IN ARIZONA